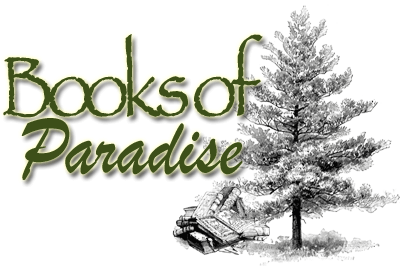 News
In 2011, we closed our physical bookstore and are now selling strictly on the internet.
New Arrivals
We have recently acquired an estate of local E Clampus Vitus (Clamper) books. Put "Clamper" as Keyword in the Search box at upper left of home page. Keep checking back as we are adding more listings daily.
We are always interested in purchasing books, if you are in the Butte County area. Email us (bkspdse@pacbell.net) or give us a call (530-873-6503).
Quote of the

Week
"A book lying idle on a shelf is wasted ammunition.
Like money, books must be kept in constant circulation...
A book is not only a friend, it makes friends for you.
When you have possessed a book with mind and spirit, you are enriched.
But when you pass it on you are enriched threefold."


-- Henry Miller

Romantic Manifesto: A Philosophy of Literature
Rand, Ayn
39.95 USD
Add to Shopping Cart



Kwakiutl Art
Hawthorn, Audrey
14.95 USD
Add to Shopping Cart



The "I Am" Discourses (Saint Germain Series, Vol 14)
Seven Mighty Elohim; King, Lotus Ray
29.95 USD
Add to Shopping Cart



Hawaiian Yesterdays: Historical Photographs By Ray Jerome Baker
Baker, Ray Jerome (Photographer) ; Van Dyke, Robert E. (editor) ; Ronck, Ronn (Text)
29.95 USD
Add to Shopping Cart



Chirothesia - As Presented By The Chirothesian Church Of Faith
The Chirothesian Church Of Faith; Bussell, Reverend D. J.
24.95 USD
Add to Shopping Cart



Covered Wagon Days: Crossing The Plains In 1852, Narrative Of A Trip From Iowa To The Land Of The Gold - As Told In Letters Written During The Journey
Cooke, Lucy Rutledge
24.95 USD
Add to Shopping Cart



Walnut Orchard Management (Publication 21410)
Ramos, David E. (editor)
399.95 USD
Add to Shopping Cart



The Nifty Fifties Fords: An Illustrated History of the 1950's Fords (The Ford Road Series, Vol. 5)
Miller, Ray; Embree, Glenn (Photographs)
24.95 USD
Add to Shopping Cart



Sicilian Richter-Rauzer With A6
Schiller, Eric
6.95 USD
Add to Shopping Cart



The PIRC 1975
Smith, Ken (editor)
9.95 USD
Add to Shopping Cart



Life's Highway
Guest, Edgar A.
14.95 USD
Add to Shopping Cart



Encyclopaedia Of Psychic Science In Slipcase
Fodor, Nandor
19.95 USD
Add to Shopping Cart



Cinefantastique Magazine Double Issue: Forbidden Planet; Vol. 8 No. 2 And Vol. 8 No. 3, Spring 1979
Clarke, Frederick S. (editor) ; Cinefantastique Magazine
24.95 USD
Add to Shopping Cart



Cinefantastique Magazine, Volume 29 #4/5 October 1997, The X-files Double Issue
Clarke, Frederick S. (editor) ; Cinefantastique Magazine
14.95 USD
Add to Shopping Cart



Cinefantastique Magazine, Volume 29 #4/5 October 1997, The X-files Double Issue
Clarke, Frederick S. (editor) ; Cinefantastique Magazine
14.95 USD
Add to Shopping Cart



Cinefantastique Magazine, Volume 30 #5 And 6, September 1998, Outer Limits Special Double Issue
Clarke, Frederick S. (editor) ; Cinefantastique Magazine
14.95 USD
Add to Shopping Cart