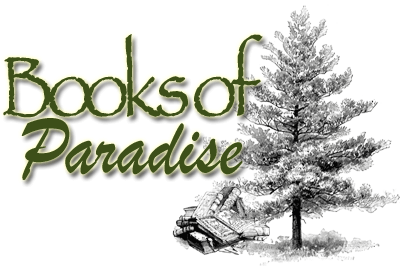 News
In 2011, we closed our physical bookstore and are now selling strictly on the internet.
New Arrivals
We have recently acquired a collection of books on Alaska. Enter Alaska as a Keyword in the Search box in the upper left corner of our homepage. Keep checking back as we are adding books daily.
We are always interested in purchasing books, if you are in the Butte County area. Email us ([email protected]) or give us a call (530-873-6503).
Quote of the Week
"There are two perfumes to a book. If a book is new, it smells great.
If a book is old, it smells even better. It smells like ancient Egypt.
A book has got to smell. You have to hold it in your hands and pray to it.
You put it in your pocket and you walk with it. And it stays with you forever.
"
--Ray Bradbury

Balancing the Sword: A Comprehensive Study Guide to Life's Manual, Volume 1 & 2, 2-Volume Set with CD-ROM
Wolfe, Allen B.
54.95 USD
Add to Shopping Cart



The Bible Story, Ten (10) Volume Set
Maxwell, Arthur S.
99.95 USD
Add to Shopping Cart



Native Oaks - Our Valley Heritage: A Guide To The Botany, Care, & Planting Of Native Oaks In The Sacramento Valley
Heritage Oaks Committee
7.95 USD
Add to Shopping Cart



Bienvenidos Al Canon De Santa Ana! A History Of The Santa Ana Canyon; Prepared For The Dedication Of Yorba Regional Park (Interpretive Series No. 5)
Orange County Board Of Supervisors; Diedrich, Ralph A. (Chairman)
24.95 USD
Add to Shopping Cart



Remembering The '50s : 100 Top Hits To Play And Sing With Lyric Booklet (Reader's Digest Songbook)
Simon, William L. (editor) ; Reader's Digest Assn.
24.95 USD
Add to Shopping Cart



Vitamin B6 Pyridoxal Phosphate: Chemical, Biochemical and Medical Aspects, Part A & B, 2 Volume Set (Coenzymes and Cofactors, Volume I)
Dolphin, David & Rozanne Poulson & Olga Avramovic (editors)
160.00 USD
Add to Shopping Cart



Trinity Pictorial, Volume One (1, I) : A Photo Essay Of Trinity County
Hall, Bill (Text & Photos by) ; Wilkins, Al (Introduction by) ; Augustson, Jim (Titles by)
54.95 USD
Add to Shopping Cart



Alaska's Coinage Through The Years: An Illustrated Catalog Listing Tokens Used As Money By Pioneer Alaskans, Plus Commemorative Medals, Souvenir Tokens, And Medals
Gould, Maurice M. ; Bressett, Kenneth; Dethridge, Kaye and Nancy
6.95 USD
Add to Shopping Cart



The Skagway Story: A History Of Alaska's Most Famous Gold Rush Town And Some Of The People Who Made That History
Clifford, Howard
5.95 USD
Add to Shopping Cart



A History of Mining on the Kenai Peninsula
Barry, Mary J
19.95 USD
Add to Shopping Cart



Triple Combination - Book of Mormon, Doctrine and Covenants, Pearl of Great Price (Cape Morocco Leather)
Deseret Book Company
19.95 USD
Add to Shopping Cart



Arctic Hunter
Helmericks, Bud; Kane, Henry Bugbee (Illustrator)
13.95 USD
Add to Shopping Cart



Alaska's Dynamic Women: 200 Years of Alaskan Women, Volume II (Two, 2)
Jones, H. Wendy
9.95 USD
Add to Shopping Cart



13 Years of Travel and Exploration in Alaska, 1877-1889 (Northern History Library)
Pierce, W. H. ; De Armond, R. N. (editor)
6.95 USD
Add to Shopping Cart



Fairbanks: The $200 Million Gold Rush Town - Historical Sketches (1902-1909); Signed
Wold, Jo Anne
16.95 USD
Add to Shopping Cart